Infection Prevention & Control in Healthcare Facilities and Other Settings
November 10, 2021
2021-11-10 15:20
Infection Prevention & Control in Healthcare Facilities and Other Settings
Infection Prevention & Control in Healthcare Facilities and Other Settings
Infection Prevention and Control
in Healthcare Facilities and Other Settings
29 November 2021
1:00PM to 5:00PM


30 November 2021
1:00PM to 5:00PM
Infection prevention and control (IPC) is the practice of preventing or stopping the spread of infections during healthcare delivery in facilities like hospitals, outpatient clinics, dialysis centers, long-term care facilities, or traditional practitioners. IPC is a critical part of health system strengthening and must be a priority to protect patients and healthcare workers. In the context of COVID-19, the IPC goal is to support the maintenance of essential healthcare services by containing and preventing COVID-19 transmission within healthcare facilities to keep patients and healthcare workers healthy and safe. (Centers for Disease Control & Prevention)
This workshop covers global standards and best practices in preventing and managing infections in healthcare facilities, home and work settings understanding that many of the cases will need to be managed outside of the hospitals in order to unclog healthcare facilities and prevent the spread of infection even at the community level for a continuum of care that results to good outcomes. 
Course Description
Knowing and implementing the best practices in hospital cleaning, sterilization and disinfection can help stop the spread of diseases in healthcare facilities. Infection-control strategies, housekeeping and engineering controls, when consistently implemented, are effective in preventing opportunistic, environmentally-related infections in immuno-compromised populations.
Adherence to proper use of disinfectants, proper maintenance of medical equipment that uses water (e.g., automated endoscope processors and hydrotherapy equipment); water-quality standards for hemodialysis; and proper ventilation standards for specialized care environments (i.e., airborne infection isolation; protective environment and operating rooms); and prompt management of water intrusion into facility structural elements will minimize healthcare-associated infection risks and reduce the frequency of pseudo-outbreaks.
Course Objectives
Participants will acquire basic knowledge and skills regarding the following major topics:
Basics of infection prevention and control
Understanding principles of hygiene and safe hospital environment and preconditions
Best practices and methodologies to plan and implement cleaning and housekeeping standards in healthcare facilities
Disinfection and infection control standards in healthcare facilities
Managing cleaning and disinfection of high-risk units, operating rooms, laboratories, medical device, and critical surfaces
Evaluation and strengthening/enhancement of cleaning and hygiene in hospitals
Continuous improvement practices
Medical waste management
Who Should Participate
Course Content
Philippine Participants
₱
2,995
Participation Fee inclusive of:
E-Certificate upon Completion
International Participants
$
60
Participation Fee inclusive of:
E-Certificate upon Completion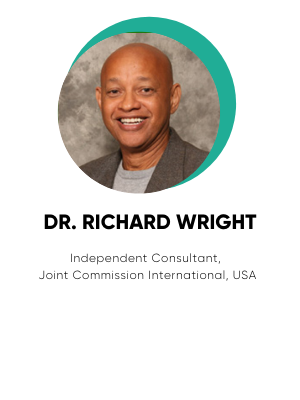 Richard Wright, MD, MPH, is an international consultant and expert on quality and patient safety. He is a board certified internal medicine and infectious disease specialist.  Dr. Wright is an independent consultant with the Joint Commission Resources (JCR) and Joint Commission International (JCI), providing consulting services for hospitals and ambulatory centers both in the United States and in numerous countries, with specific expertise in credentialing and privileging, performance measurement and quality management, leadership development, and the use of Lean Redesign methods to improve clinical processes impacting quality and patient safety.   
His expertise is in performance improvement and evaluation, care process redesign, and disease management by clinical teams. Previously, he served as a senior executive of Denver Health Authority as the Executive Director of the largest network of Federally Qualified Community-based Primary Care Health Centers in the country, serving 100,000 residents in Denver and providing more than 300,000 ambulatory visits.  Dr. Wright authored numerous articles on a broad array of topics related to healthcare quality and management.
Thomas Kozlowski, PhD is the CEO of Health Strategic Solutions, LLC in the US.  With over 40 years of experience in healthcare management, he is seen as a healthcare executive who works within a global market allowing his leadership skills and knowledge to attain institutional success and be a trusted advisor. His expertise in the understanding of cultural and institutional differences continue to be key improvement issues for the C-Suite leadership in the healthcare delivery system workplace in all countries and cultures allowing Dr. Kozlowski to emerge with comprehensive solutions from different perspectives at the decision table. 
Dr. Thomas Kozlowski worked with Joint Commission Resources/Joint Commission International as a Principal Consultant and subsequently consulted with both domestic and international health care organizations in the areas of accreditation readiness and standards compliance. Also served as lecturer and mentor in Quality and Safety Implementation.
Dr. Kozlowski's consulting expertise in hospital, ambulatory care, behavioral health care, and long- term care settings include operational assessment; patient safety assessment; environment of care; executive leadership and governing bodies; performance improvement; implementation strategies for rapid response teams; electronic health record assessment; and incorporating tracer methodology and the periodic performance review as management tools.
Dr. Sanjeev Singh is a pediatrician with Masters in Hospital Management and PhD in Infection Control. He worked as Regional Coordinator at WHO- India in disease eradication program before joining as Chief Medical Superintendent of a 1,2350-bed teaching super specialty hospital Amrita Institute of Medical Sciences & Research Center at Kochi.
Dr. Sanjeev is an Ambassador of India to Society of Healthcare Epidemiology of America (SHEA) and has been adjudged "Hero of Infection Control" by the Association of Professionals of Infection Control (APIC), U.S. He is an International surveyor at International Society for Quality (ISQua). He was member of Technical Committee at National Accreditation Board for Hospitals, India (NABH) and was responsible for drafting accreditation standards for 3rd and 4th edition. He is presently the Vice Chairman of Research Committee at NABH and Chairman of Technical Committee at AHPI (Association of Healthcare Providers of India) and Health Sector Council of India (Government of India). He is member of Drug Safety Council (GOI) and member of National Advisory Body on Occupational Exposures. He is also member of Healthcare Committee at Federation of Indian Chamber of Commerce of India (FICCI) and Secretary of AHPI- Delhi-NCR.
Dr. Sanjeev is an external consultant to WHO on regulatory, licensing policy issues and Quality Interventions in India; Technical Advisor to several State government healthcare projects (E- learning, reduction of IMR, Antibiotic Stewardship and Infection Control); Technical Expert for University of Antwerp's Point Prevalence Surveillance and Institute of Healthcare Improvement's (US) on Neonatal Collaborative program; and Technical Advisor on Infection Prevention and Antibiotic Stewardship for the State of Kerala, India.
He has written a book "Hospital Infection Control Guidelines: Principles & Practices" and several international and national publications including editorial committee for Asian Society of Quality Journal, International Journal for Research & Hospital Management and NABH Journal for Quality & Patient Safety. He has been awarded "Best Practices in Infection Control" by GOI and Quality Council of India (QCI) in 2010, "QIMPRO Quality award" for Lean Six Sigma implementation in Healthcare in 2012, "Outstanding Healthcare Professional" by ITP Publishing, Dubai in 2014 and FICCI "Patient Safety" award in 2015 and British Medical Journal (BMJ) award in South Asia for "Infectious Disease Initiative of the Year" in 2016. He was recently awarded as "Most impactful 100 healthcare leaders (global)" by CMA Asia in 2017; awarded "Quality Champion" by Confederation of Accreditation Healthcare Organization (CAHO) in 2018; and "Best Quality Initiative project" by DL Shah Quality Council of India and Ramakrishna Bajaj award in 2019.
He has done his fellowship in Patient & Healthcare Worker Safety from University of Virginia and fellowship on Health Technology Assessment (HTA) from University of Adelaide. He is an Improvement Advisor at Institute of Healthcare Improvement (IHI), U.S. and a faculty at Indian Institute of Management (IIM), Kolkata (HEMP) and at IIM Bangalore. Dr. Sanjeev is a Green Belt in Lean Six Sigma
Ms. Sharmila Sengupta is currently the Research Coordinator for Infectious Diseases at the National University Hospital in Singapore. Prior to this, she worked at the National Center for Infectious Disease and Tan Tock Seng Hospital also in Singapore.

As a Clinical Microbiologist, Dr. Sengupta focused her entire career in Microbiology, Infection Control and Epidemiology. She has held several senior positions in leading hospitals in India such as Medanta-The Medicity Hospital, BLK Superspecialty Hospital, Kasturba Medical College, Fortis Hospital and Max Healthcare. In 2017, she was a Technical Expert in the Committee for Control of Multi-Drug Resistant Pathogens at the World Health Organization headquarters and Principal Investigator for the Global Point Prevalence Study for Antimicrobial Usage in India.
Dr. Sengupta was the first International Ambassador of India to the Society of Healthcare Epidemiology of America (SHEA) in 2009 and was a Visiting Fellow to Johns Hopkins University, Department of Healthcare Epidemiology & Infection Control in 2015.   She has been teaching since 1995 in several universities up to present and is a Resource Speaker and Author of numerious research papers and journals on topics that include Quality Assurance in Clinical Microbiology & Infection Control, HIV/AIDS, Rational Use of Antimicrobials and Patient Safety, among others.
Prof. Joyce Socao-Alumno is the Founder & President of HealthCore—the center for global healthcare management, quality accreditation for healthcare and hospitality, and medical tourism services in the Philippines. Ms. Alumno is Patient Safety Ambassador for Patient Safety Movement Foundation advocating patient safety initiatives and globalization of healthcare and is a leading proponent of Medical and Wellness Tourism. Her varied skills make her a well-sought after consultant and speaker in many international conferences and a regular judge and advisor for various organizations. She has represented international quality accreditation agencies such as Quality & Accreditation Institute, Joint Commission International, Accreditation Canada, NABH International, Swiss Approval International, and TEMOS. She is an Adjunct Professor at the Ateneo Graduate School of Business and a certified ISO 9001:2015 Lead Auditor. Very recently, she was elected President of the Health, Retirement & Tourism (HeaRT) Alliance of the Philippines advocating the development and promotion of the Philippine Health Tourism program of the country.