The Global Threat of Antimicrobial Resistance (Online Workshop)
December 28, 2020
2021-11-02 17:21
The Global Threat of Antimicrobial Resistance (Online Workshop)
The Global Threat of Antimicrobial Resistance (Online Workshop)
Description
The World Health Organization (WHO) has declared antimicrobial resistance (AMR) as one of the top ten global public health threats to humanity along with communicable diseases, air pollution and flu pandemic, among others. AMR occurs when the medicines used to treat microbes, like bacteria, viruses, fungi and parasites, have weakened or are no longer effective.  The Department of Health (DOH) warned the public against the misuse and overuse of antimicrobials, including antibiotics, especially during this pandemic. DOH has also called on everyone to fight antimicrobial resistance. 
This online course seeks to increase awareness on the impact of AMR on human health and communities and the prudent use of antimicrobials in hospitals by developing and implementing an effective Antibiotic Stewardship Program.
Multidisciplinary Health Workers (Doctors – ID specialists, Microbiologists, Pharmacists, Administrators, Internists, Intensivists, Surgeons, Quality & Safet­­y Persons)
The aim is to provide planners and implementors  an in-depth awareness in promoting prudent antibiotic use with basic knowledge and skills required to plan, conduct, and evaluate appropriate usage of antimicrobial use among patients admitted in healthcare institutions.
The course should encourage the participant's experience as a starting point and build up from there, inserting core content blended with experience, and available resources as the course progresses. The training method would include didactic lectures, interactive presentations, group work and discussions, to make use of participant's experiences and promote their active involvement. Case studies will be used to support the integration and application of knowledge acquired throughout the course. All teaching activities should aim at enhancing the participant's ability to apply key concepts and theory/theoretical frameworks, in an analytical and reflective practice of their own.
Training Objectives
Understand and explain the rationale, key elements and steps required to develop ASP program on rational antimicrobial use.
Design and implement a program on rational antimicrobial use.
Identify and select appropriate indicators and methods and tools for evaluation of the ASP program on rational antimicrobial use.
Design and implement a work plan for ASP program on rational antimicrobial use.
Learning Opportunities
Covered Topics
Course Structure
TRACK 1
The Impact of Antimicrobial Resistance
₱
2,500
per participant
TRACK 2
Antibiotic Stewardship Program in Hospitals
₱
4,500
per participant
PACKAGE PRICE
Inclusive of Track 1 and Track 2
₱
6,000
per participant
The Impact of Antimicrobial Resistance
in Human Health and Communities
27-28 January 2021
1PM – 5PM
Dr. Socorro Escalante is currently the technical officer and medicines policy advisor at the WHO Country Office in Viet Nam. She has been working in the area of medicines policies and health systems for the past 20 years, half of this time spent on local health systems and local governance.
Dr Escalante's main areas of interest are on health legislation and in the development of policies focused on essential medicines, intervening in the areas of medicines prices, generic medicines, intellectual property and trade-related issues affecting access to medicines. Working for WHO, she has developed technical and policy briefs for high level decision makers and national legislative bodies and assisted in the development of regional and national strategies and medicines policies. She has worked extensively on medicines procurement and in the area of strategic management for hospitals and local health systems.
Roberto 'Obet' Pagdanganan has had an extensive experience both in the private sector,  (business, academe and civil society organizations), and in government service. He was a senior  executive at Unilever and a part time professorial lecturer in chemical engineering and MBA subjects before he joined the government in 1986. 
Obet was a most outstanding public servant, and had received numerous awards and recognitions.  These include Most Outstanding Alumnus awards from all the schools he attended, and the Lifetime  Achievement Award, the highest award, from the Boy Scouts of the Philippines. He also received a  Legion of Honor award from President Cory Aquino for his role in fighting coup attempts during her term. 
Obet considers himself particularly fortunate to have led the successful struggle of local officials for local  autonomy, as President of the League of Provinces, and founding Chairman of the League of Leagues of  Local Government Units, later known as Union of Local Authorities of the Philippines, ULAP. He is a  foremost advocate for equitable national progress through good governance and cooperative  development. 
As Tourism Secretary, Obet initiated the opening of the Tourism Office in Beijing China and signed the  MOA for tourism cooperation between the Philippines and China on September 5, 2004. As Chairman  and President of PITC and PITC Pharma, he also spearheaded the quest to improve access to quality  and affordable medicines for the Filipino people. 
Obet's humble beginnings and familiarity with the travails of the less fortunate amongst us, have  strengthened his resolve to help fight poverty and to improve the quality of life of the Filipino people. He  attributes much of his values formation to boy scouting having been a member for more than 60 years.  He attended the Tenth (10th) World Boy Scouts Jamboree in July 1959 at Mt. Makiling. He is also guided  by Rotary's motto "service above self".
Dr. Anna Melissa Guerrero started her professional career early on with the Department of Health. Presently, she is the Deputy Program Director of the National Center for Pharmaceutical Access and Management. Among their tasks is the management of advisory committees such as the Medicines Advisory Council, the Good Governance in Medicines Council and the Philippine National Drug Formulary Committee. finished her Master in Public Health at the University of Birmingham, United Kingdom as a British Chevening Scholar. She graduated as a Doctor of Medicine and Bachelor of Science in Public Health at the University of the Philippines. At present she is also the Chief of the Pharmaceutical Division of the Health Regulation Team at the Department of Health.
Dr. Sanjeev Singh is a pediatrician with Masters in Hospital Management and PhD in Infection Control. He worked as Regional Coordinator at WHO- India in disease eradication program before joining as Chief Medical Superintendent of a 1,2350-bed teaching super specialty hospital Amrita Institute of Medical Sciences & Research Center at Kochi.
Dr. Sanjeev is an Ambassador of India to Society of Healthcare Epidemiology of America (SHEA) and has been adjudged "Hero of Infection Control" by the Association of Professionals of Infection Control (APIC), U.S. He is an International surveyor at International Society for Quality (ISQua). He was member of Technical Committee at National Accreditation Board for Hospitals, India (NABH) and was responsible for drafting accreditation standards for 3rd and 4th edition. He is presently the Vice Chairman of Research Committee at NABH and Chairman of Technical Committee at AHPI (Association of Healthcare Providers of India) and Health Sector Council of India (Government of India). He is member of Drug Safety Council (GOI) and member of National Advisory Body on Occupational Exposures. He is also member of Healthcare Committee at Federation of Indian Chamber of Commerce of India (FICCI) and Secretary of AHPI- Delhi-NCR.
Dr. Sanjeev is an external consultant to WHO on regulatory, licensing policy issues and Quality Interventions in India; Technical Advisor to several State government healthcare projects (E- learning, reduction of IMR, Antibiotic Stewardship and Infection Control); Technical Expert for University of Antwerp's Point Prevalence Surveillance and Institute of Healthcare Improvement's (US) on Neonatal Collaborative program; and Technical Advisor on Infection Prevention and Antibiotic Stewardship for the State of Kerala, India.
He has written a book "Hospital Infection Control Guidelines: Principles & Practices" and several international and national publications including editorial committee for Asian Society of Quality Journal, International Journal for Research & Hospital Management and NABH Journal for Quality & Patient Safety. He has been awarded "Best Practices in Infection Control" by GOI and Quality Council of India (QCI) in 2010, "QIMPRO Quality award" for Lean Six Sigma implementation in Healthcare in 2012, "Outstanding Healthcare Professional" by ITP Publishing, Dubai in 2014 and FICCI "Patient Safety" award in 2015 and British Medical Journal (BMJ) award in South Asia for "Infectious Disease Initiative of the Year" in 2016. He was recently awarded as "Most impactful 100 healthcare leaders (global)" by CMA Asia in 2017; awarded "Quality Champion" by Confederation of Accreditation Healthcare Organization (CAHO) in 2018; and "Best Quality Initiative project" by DL Shah Quality Council of India and Ramakrishna Bajaj award in 2019.
He has done his fellowship in Patient & Healthcare Worker Safety from University of Virginia and fellowship on Health Technology Assessment (HTA) from University of Adelaide. He is an Improvement Advisor at Institute of Healthcare Improvement (IHI), U.S. and a faculty at Indian Institute of Management (IIM), Kolkata (HEMP) and at IIM Bangalore. Dr. Sanjeev is a Green Belt in Lean Six Sigma
Jyoti Somani, M.D., F.A.C.P. is a Senior Consultant for the Division of Infectious Diseases at the University Medicine Cluster, National University Hospital. She is also an Assistant Professor for the Department of Medicine at Yong Loo Lin School of Medicine, National University of Singapore. She was appointed as the Director at the NUH Epidemiology Program last July of 2020 and also serves as the Deputy Chair for the NUH Infection Prevention Committee. She is also the Clinical Director for their Antibiotic Stewardship Program. Dr. Somani has given several talks regarding various topics such as KTPH Dengue Management Guidelines General Medicine Grand Rounds, AMK-CH Adult Vaccination to Prevent Pneumonia CME talk, ID for the HO: Antibiotics and cultures: Maximizing Quality Control and Effective Treatment and many more. At present she also serves as a member at the Covid Clinical studies DSRB-E2 Committee and the National Antimicrobial Resistance Control Committee of National University Hospital, Singapore.
Ms. Sharmila Sengupta is currently the Research Coordinator for Infectious Diseases at the National University Hospital in Singapore. Prior to this, she worked at the National Center for Infectious Disease and Tan Tock Seng Hospital also in Singapore.

As a Clinical Microbiologist, Dr. Sengupta focused her entire career in Microbiology, Infection Control and Epidemiology. She has held several senior positions in leading hospitals in India such as Medanta-The Medicity Hospital, BLK Superspecialty Hospital, Kasturba Medical College, Fortis Hospital and Max Healthcare. In 2017, she was a Technical Expert in the Committee for Control of Multi-Drug Resistant Pathogens at the World Health Organization headquarters and Principal Investigator for the Global Point Prevalence Study for Antimicrobial Usage in India.
Dr. Sengupta was the first International Ambassador of India to the Society of Healthcare Epidemiology of America (SHEA) in 2009 and was a Visiting Fellow to Johns Hopkins University, Department of Healthcare Epidemiology & Infection Control in 2015.   She has been teaching since 1995 in several universities up to present and is a Resource Speaker and Author of numerious research papers and journals on topics that include Quality Assurance in Clinical Microbiology & Infection Control, HIV/AIDS, Rational Use of Antimicrobials and Patient Safety, among others.
Global Overview on Antimicrobial
Resistance
The Significant Role of Pharmacology and
Microbiology in ASP
Antibiotic Stewardship Program in Hospitals ​
3-5 February 2021
10AM – 2PM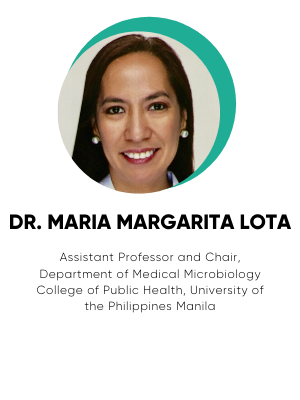 Dr. Maria Margarita M. Lota is an Assistant Professor at the Department of Medical Microbiology. She is a graduate of Bachelor of Science in Public Health at University of the Philippines and pursued her Doctor of Medicine at the University of the East Ramon Magsaysay Medical Center. Further training in Pediatrics was completed at the Philippine General Hospital. Thereafter, she joined as faculty in the College of Public Health. She actively participates in the conduct of medical microbiology courses in the undergraduate and graduate programs. She acts as the lead coordinator for the various microbiology courses in the College of Medicine. Further, she has coordinated several local and international training programs. Her clinical expertise in Pediatrics contributes to her approach in teaching the different infectious diseases which has become her main focus in the field of Microbiology. Dr. Lota is a member of the Las Piñas Medical Society and a fellow of the Philippine Pediatric Society.With the continued professional education in Pediatrics and Microbiology, complemented with the further studies in teaching, she has grown to provide new teaching and learning strategies appropriate to her audience. Likewise, she is more involved with the implementation of the educational transformation in the health professions. Her passion for teaching further inspired her to continue in the development of her knowledge and skills to practice the craft of teaching. Hence, she is currently taking her Masters in Health Professions education at the National Teachers Training Center – University of the Philippines Manila. Dr. Lota was the recipient of the Junior Faculty Grant Award in 2005. She has done several researches and publications on antimicrobial resistance, tuberculosis and enteric bacteria. Her interests include pediatric microbial infections, vaccinations and antimicrobial resistance. With her experience in the field of Medical Microbiology, she has been invited as speaker to different local and international workshops and conferences.
Dr. Jacob is considered a maverick in the healthcare industry. He is an emergency medicine doctor educated in India, United Kingdom, and the United States who eventually moved up the corporate ladder having served in various capacities at Subang Jaya Medical Centre, until he became the CEO and Group Medical Advisor of Sime Darby Health Care, and now Chairman of Ramsay Sime Darby Health Care, a position he held since 2013.
He is also the longest-standing President of the Association of Private Hospitals of Malaysia having been elected five times since 2008 and President of Asian Hospital Federation in 2012-2013. He serves as Councilor of the Malaysian Society for Quality in Health (MSQH) and Board Member of the Malaysia Healthcare Travel Council (MHTC). Dr. Jacob today works closely with various NGOs and Government agencies to promote Malaysian Healthcare both locally and internationally. He is a Steering Committee Member of Malaysia's National Key Economic Areas (NKEA) for Healthcare and Chairman of the Disciplinary Committee of Malaysian Medical Council.
From 2014 to present, he sits in the Board of Directors of Joint Commission Resources (JCR) in the U.S. and Member of Asia Pacific Regional Advisory Council of Joint Commission International (JCI).
In 2013, Dr. Jacob was conferred the title of Dato' by Sultan Sharafuddin Idris Shah for his various achievements. Most recently in 2018, he was appointed by the Malaysia Prime Minister to head the Healthcare Sector of the National Productivity Council.
Mr. Consing has served on BPI's board of directors for 18 years (1995 – 2000, 2004 – 2007, 2010 – present).  He serves as chairman of BPI's thrift bank, investment bank, UK bank, property and casualty insurance, leasing, and rental subsidiaries, and vice chairman of its foundation; and is also a board director of BPI's life insurance, asset management and micro finance subsidiaries.  Mr. Consing is a member of BPI's executive committee, and is chairman of its management and credit committees.

Mr. Consing is Chairman and President of the Bankers Association of the Philippines.  He is Chairman of Philippine Dealing System Holdings Corporation and its three operating subsidiaries.  He is also President of Bancnet, Inc.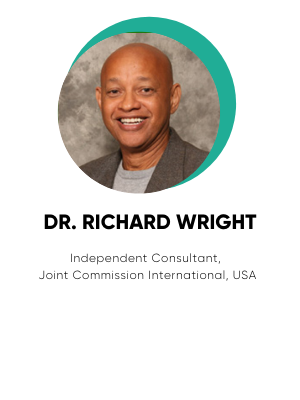 Richard Wright, MD, MPH, is an international consultant and expert on quality and patient safety. He is a board certified internal medicine and infectious disease specialist.  Dr. Wright is an independent consultant with the Joint Commission Resources (JCR) and Joint Commission International (JCI), providing consulting services for hospitals and ambulatory centers both in the United States and in numerous countries, with specific expertise in credentialing and privileging, performance measurement and quality management, leadership development, and the use of Lean Redesign methods to improve clinical processes impacting quality and patient safety.    His expertise is in performance improvement and evaluation, care process redesign, and disease management by clinical teams. Previously, he served as a senior executive of Denver Health Authority as the Executive Director of the largest network of Federally Qualified Community-based Primary Care Health Centers in the country, serving 100,000 residents in Denver and providing more than 300,000 ambulatory visits.  Dr. Wright authored numerous articles on a broad array of topics related to health care quality and management.
Dr. Ma. Tarcela Gler is an Infectious Disease Specialist, DLSHSI. Throughout her career, she has studied tuberculosis (TB) and multidrug resistant-tuberculosis (MDR-TB). Her research collaborations have been featured in several peer-reviewed publications including New England Journal of Medicine, The Lancet, International Journal of Tuberculosis and Lung Disease, Bulletin of the World Health Organization and PLoS Medicine. She was also the Clinic Physician of the Tropical Disease MDR-TB Clinic which was one of the first DOTS-PLUs clinics that was recognized by the World Health Organization. The practices in the clinic paved the way for the Programmatic Management of Drug Resistant TB in the Philippines. A present she is also the head of the Antibiotic Stewardship Committee at Makati Medical Center.
Hazel Faye R. Docuyanan is one of the leaders of Clinical Pharmacy practice in the Philippines. She practiced Clinical Pharmacy in Makati Medical Center which is the pioneer and leading institution for the clinical pharmacy practice in the Philippines. This is the first hospital that has clinical pharmacists assigned in the patient care areas. 
Ms. Docuyanan is a graduate of Bachelor of Science in Pharmacy from the University of the Philippines, Manila. She likewise completed her Master of Science in Hospital Pharmacy from the same institution and finished the Hospital Management Program in Ateneo de Manila Graduate School of Business. She is the first recipient of the Dr. Siopin Co Education Foundation Scholarship for Post Graduate Studies. 
Her career started as a junior clinical pharmacist and she rose from the ranks and is now the Assistant Vice President and Chief Pharmacist of the Department of Pharmacy in Makati Medical Center. She became head of Pharmacy Department since 2007. Ms. Docuyanan spearheaded the JCI accreditation and reaccreditation of the hospital and because of her exemplary leadership, she was given the Pride of MMC Award in 2012 and Special CEO citation award in 2018. She is also a recipient of the PPhA Outstanding Pharmacist (TOP) Award in Hospital Pharmacy in 2012 and the PSHP Excellence in Hospital Pharmacy Practice Award in 2012. 
She was part of the development of Philippine Practice Standards for Pharmacy. She also spearheaded and completed the PSHP Minimum Standards for Hospital Pharmacy and was part of the PSHP AMS Core Team who developed the AMS Training Package for Hospital Pharmacists and the AMS Fellowship Program for Hospital Pharmacists. 
She was instrumental in the implementation of the first post baccalaureate program of Doctor of Pharmacy in the Philippines through a partnership with Centro Escolar University by developing the clinical pharmacy clerkship program and providing the hospital clinical pharmacy clerkship for pharmD students in Makati Medical Center since 2005. This is the first PharmD program in the Philippines. 
She is the President of PSHP since 2014 and is currently the country chair of Asian Conference on Clinical Pharmacy. 
Ms Docuyanan is an officer of PPhA since 2016 and led the successful 2017 PPhA National Convention in Palawan with over 6,000 delegates. She had been invited as speaker to talk about Medication Safety, Clinical Pharmacy and Advancing the Practice in the Philippines. 
Leadership, accountabilities,
and policies
Strategies to overcome implementation barriers related to resource limitations
Monitoring, reporting, communication & education using evaluation methods
Program Director and Moderator
Prof. Joyce Socao-Alumno is the Founder & President of HealthCore—the center for global healthcare management, quality accreditation for healthcare and hospitality, and medical tourism services in the Philippines. Ms. Alumno is Patient Safety Ambassador for Patient Safety Movement Foundation advocating patient safety initiatives and globalization of healthcare and is a leading proponent of Medical and Wellness Tourism. Her varied skills make her a well-sought after consultant and speaker in many international conferences and a regular judge and advisor for various organizations. She has represented international quality accreditation agencies such as Quality & Accreditation Institute, Joint Commission International, Accreditation Canada, NABH International, Swiss Approval International, and TEMOS. She is an Adjunct Professor at the Ateneo Graduate School of Business and a certified ISO 9001:2015 Lead Auditor. Very recently, she was elected President of the Health, Retirement & Tourism (HeaRT) Alliance of the Philippines advocating the development and promotion of the Philippine Health Tourism program of the country.
TRACK 1
The Impact of Antimicrobial Resistance
₱
2,500
per participant
TRACK 2
Antibiotic Stewardship Program in Hospitals
₱
4,500
per participant
PACKAGE PRICE
Inclusive of Track 1 and Track 2
₱
6,500
per participant