Antimicrobial Resistance:
The Silent Pandemic
August 8, 2022
2023-04-01 11:24
Antimicrobial Resistance:<span class='new-line'>The Silent Pandemic</span>
Antimicrobial Resistance:
The Silent Pandemic
ANTIMICROBIAL RESISTANCE: 

The Silent Pandemic
Course Description
The World Health Organization (WHO) has declared antimicrobial resistance (AMR) as one of the top ten global public health threats to humanity along with communicable diseases, air pollution and flu pandemic, among others. AMR occurs when the medicines used to treat microbes, like bacteria, viruses, fungi and parasites, have weakened or are no longer effective. The medicines do not get weaker but the microbes develop resistance because of improper use of antimicrobials. The Department of Health (DOH) warned the public against the misuse and overuse of antimicrobials, including antibiotics, especially during the pandemic. DOH has also called on everyone to fight antimicrobial resistance.
This online course seeks to increase awareness on the impact of AMR on human health and communities and the prudent use of antimicrobials in hospitals by developing and implementing an effective Antimicrobial Stewardship Program.
TARGET PARTICIPANTS
Multidisciplinary Health Workers (Doctors – ID specialists, Microbiologists, Pharmacists, Administrators, Internists, Intensivists, Surgeons, Quality & Safety Persons)
STRUCTURE
learning outcomes
learning opportunities

To receive the PRC Certificate of Attendance, students must get at least 70% in the post-test.
International Participants
$
60
Participation Fee inclusive of:
E-Certificate upon Completion
Philippine Participants
₱
2,995
Participation Fee inclusive of:
E-Certificate upon Completion
Total Duration: 5 Hours and 45 Minutes
The course should encourage the participant's experience as a starting point and build up from there, inserting core content blended with experience, and available resources as the course progresses. The training method would include didactic lectures, interactive presentations, group work and discussions, to make use of participant's experiences and promote their active involvement. Case studies will be used to support the integration and application of knowledge acquired throughout the course. All teaching activities should aim at enhancing the participant's ability to apply key concepts and theory/theoretical frameworks, in an analytical and reflective practice of their own.
Topics to be Covered
AMR and its global impact
The role of communities and government in AMRSP
The relationship between AMR and prescribing
What is ASP and how it can be implemented in a hospital setting
Importance of measurement of the stewardship: how it can improve antibiotic prescribing
How novel diagnostics can help in clinical decision-making for antibiotic prescribing
Understanding the value of Behavior Change Science to improve antibiotic prescribing
Examples of successful antibiotic stewardship from across the globe
Sumanth Gandra is an infectious disease physician and a public health researcher. He received his medical degree from Osmania Medical College, Hyderabad, India. He is currently an Associate Professor of Medicine at the Washington University School of Medicine in St. Louis, USA. He served as technical lead on the "Scoping Report on Antimicrobial Resistance in India" prepared for the Department of Biotechnology (DBT), Government of India in 2017. His research is focused on antibiotic resistant infections and antibiotic use in India and other low and middle-income countries. Since 2017, he has been a member of the WHO Expert Committee on the Selection and Use of Essential Medicines and antibiotics working group.
Dr. Sanjeev Singh is a pediatrician with Masters in Hospital Management and PhD in Infection Control. He worked as Regional Coordinator at WHO- India in disease eradication program before joining as Chief Medical Superintendent of a 1,2350-bed teaching super specialty hospital Amrita Institute of Medical Sciences & Research Center at Kochi.

Dr. Sanjeev is an Ambassador of India to Society of Healthcare Epidemiology of America (SHEA) and has been adjudged "Hero of Infection Control" by the Association of Professionals of Infection Control (APIC), U.S. He is an International surveyor at International Society for Quality (ISQua). He was member of Technical Committee at National Accreditation Board for Hospitals, India (NABH) and was responsible for drafting accreditation standards for 3rd and 4th edition. He is presently the Vice Chairman of Research Committee at NABH and Chairman of Technical Committee at AHPI (Association of Healthcare Providers of India) and Health Sector Council of India (Government of India). He is member of Drug Safety Council (GOI) and member of National Advisory Body on Occupational Exposures. He is also a member of Healthcare Committee at Federation of Indian Chamber of Commerce of India (FICCI) and Secretary of AHPI- Delhi-NCR.

Dr. Sanjeev is an external consultant to WHO on regulatory, licensing policy issues and Quality Interventions in India; Technical Advisor to several State government healthcare projects (E- learning, reduction of IMR, Antibiotic Stewardship and Infection Control); Technical Expert for University of Antwerp's Point Prevalence Surveillance and Institute of Healthcare Improvement's (US) on Neonatal Collaborative program; and Technical Advisor on Infection Prevention and Antibiotic Stewardship for the State of Kerala, India.

He has written a book "Hospital Infection Control Guidelines: Principles & Practices" and several international and national publications including editorial committee for Asian Society of Quality Journal, International Journal for Research & Hospital Management and NABH Journal for Quality & Patient Safety. He has been awarded "Best Practices in Infection Control" by GOI and Quality Council of India (QCI) in 2010, "QIMPRO Quality award" for Lean Six Sigmaimplementation in Healthcare in 2012, "Outstanding Healthcare Professional" by ITP Publishing, Dubai in 2014 and FICCI "Patient Safety" award in 2015 and British Medical Journal (BMJ) award in South Asia for "Infectious Disease Initiative of the Year" in 2016. He was recently awarded as "Most impactful 100 healthcare leaders (global)" by CMA Asia in 2017; awarded "Quality Champion" by Confederation of Accreditation Healthcare Organization (CAHO) in 2018; and "Best Quality Initiative project" by DL Shah Quality Council of India and Ramakrishna Bajaj award in 2019.

He has done his fellowship in Patient & Healthcare Worker Safety from University of Virginia and fellowship on Health Technology Assessment (HTA) from University of Adelaide. He is an Improvement Advisor at Institute of Healthcare Improvement (IHI), U.S. and a faculty at Indian Institute of Management (IIM), Kolkata (HEMP) and at IIM Bangalore. Dr. Sanjeev is a Green Belt in Lean Six Sigma.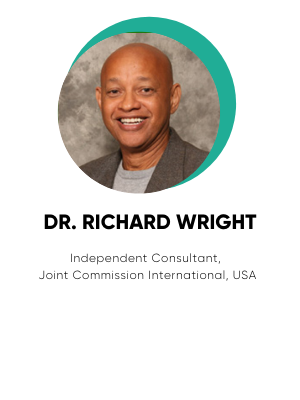 Richard Wright, MD, MPH, is an international consultant and expert on quality and patient safety. He is a board certified internal medicine and infectious disease specialist.  Dr. Wright is an independent consultant with the Joint Commission Resources (JCR) and Joint Commission International (JCI), providing consulting services for hospitals and ambulatory centers both in the United States and in numerous countries, with specific expertise in credentialing and privileging, performance measurement and quality management, leadership development, and the use of Lean Redesign methods to improve clinical processes impacting quality and patient safety.   
His expertise is in performance improvement and evaluation, care process redesign, and disease management by clinical teams. Previously, he served as a senior executive of Denver Health Authority as the Executive Director of the largest network of Federally Qualified Community-based Primary Care Health Centers in the country, serving 100,000 residents in Denver and providing more than 300,000 ambulatory visits.  Dr. Wright authored numerous articles on a broad array of topics related to healthcare quality and management.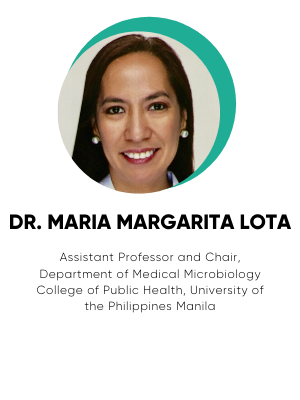 Dr. Maria Margarita M. Lota is an Assistant Professor at the Department of Medical Microbiology. She is a graduate of Bachelor of Science in Public Health at University of the Philippines and pursued her Doctor of Medicine at the University of the East Ramon Magsaysay Medical Center. Further training in Pediatrics was completed at the Philippine General Hospital. Thereafter, she joined as faculty in the College of Public Health.

She actively participates in the conduct of medical microbiology courses in the undergraduate and graduate programs. She acts as the lead coordinator for the various microbiology courses in the College of Medicine. Further, she has coordinated several local and international training programs. Her clinical expertise in Pediatrics contributes to her approach in teaching the different infectious diseases which has become her main focus in the field of Microbiology.

Dr. Lota is a member of the Las Piñas Medical Society and a fellow of the Philippine Pediatric Society. With the continued professional education in Pediatrics and Microbiology, complemented with the further studies in teaching, she has grown to provide new teaching and learning strategies appropriate to her audience. Her passion for teaching further inspired her to continue in the development of her knowledge and skills to practice the craft of teaching. Hence, she is currently taking her Masters in Health Professions education at the National Teachers Training Center – University of the Philippines Manila. Dr. Lota was the recipient of the Junior Faculty Grant Award in 2005. She has done several researches and publications on antimicrobial resistance, tuberculosis and enteric bacteria. Her interests include pediatric microbial infections, vaccinations and antimicrobial resistance. With her experience in the field of Medical Microbiology, she has been invited as speaker to different local and international workshops and conferences.
Dr. Evalyn A. Roxas is a graduate of Bachelor of Science in Biology, magna cum laude from the Pamantasan ng Lungsod ng Maynila (PLM). She then pursued studying in the same university and graduated with the degree of Doctor of Medicine finishing rank 6 of her class. After this, she continued her medical profession and had residency training in Internal Medicine from Ospital ng Maynila Medical Center. She further subspecialized in Infectious Diseases and completed her fellowship training in the said program from the University of the Philippines-Philippine General Hospital (UP-PGH). She is now a diplomate and fellow both of the Philippine College of Physicians (PCP) and Philippine Society for Microbiology and Infectious Diseases (PSMID).

Her interest in microbiology and infectious diseases brought her to the Department of Medical Microbiology. She joined the distinguished roster of faculty of the Department as Associate Professor. She teaches BS Public Health undergraduate students and also dentistry, nursing and medical students.

Some of her interests even when she was still a fellow were on leptospirosis and HIV where she was able to publish papers entitled "Clinical Profile of Patients Diagnosed with Leptospirosis After a Typhoon" and "A Case Report on Invasive Trichosporonosis in an AIDS Patient". She had short course training also on leptospirosis at the Department of Bacteriology of Kyushu University in Fukuoka, Japan.

Currently her research interests are still on leptospirosis , HIV, TB, and infection control. She continuously hones and improves her potential as an academician. She obtained her Master of Public Health from the College of Public Health where she received academic excellence award. Recently, she is actively responding to the call of pandemic as one of the frontliners taking care of infected COVID 19 patients and also doing continuous research related to the novel disease.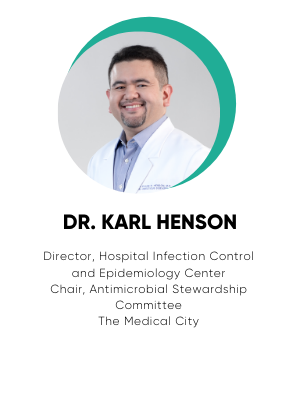 Dr. Karl Henson, MD, FPCP, FPSMID, is Internal Medicine and Infectious Disease Specialist. He is the current Director for Hospital Infection Control and Epidemiology and Chair for Antimicrobial Stewardship Committee at The Medical City, Philippines. Dr. Henson is also a Clinical Associate Professor at the University of the Philippines Manila College of Medicine, Division of Infectious Diseases. He earned his medical degree at the University of Santo Tomas Faculty of Medicine and Surgery in 2006 with Cum Laude honors and Bachelor of Science in Biochemistry from the University of the Philippines Manila.

Among his distinctions are: 2020 Presidential Award from the Philippine Society for Microbiology and Infectious Diseases, Most Outstanding Intern at The Medical City, and Meritissimus (Excellent) rating for his Final Oral Revalida in UST.
Dr. Sharmila Sengupta is currently the Research Coordinator for Infectious Diseases at the National University Hospital in Singapore. Prior to this, she worked at the National Center for Infectious Disease and Tan Tock Seng Hospital also in Singapore.

As a Clinical Microbiologist, Dr. Sengupta focused her entire career in Microbiology, Infection Control and Epidemiology. She has held several senior positions in leading hospitals in India such as Medanta-The Medicity Hospital, BLK Superspecialty Hospital, Kasturba Medical College, Fortis Hospital and Max Healthcare. In 2017, she was a Technical Expert in the Committee for Control of Multi-Drug Resistant Pathogens at the World Health Organization headquarters and Principal Investigator for the Global Point Prevalence Study for Antimicrobial Usage in India.

Dr. Sengupta was the first International Ambassador of India to the Society of Healthcare Epidemiology of America (SHEA) in 2009 and was a Visiting Fellow to Johns Hopkins University, Department of Healthcare Epidemiology & Infection Control in 2015.   She has been teaching since 1995 in several universities up to present and is a Resource Speaker and Author of numerous research papers and journals on topics that include Quality Assurance in Clinical Microbiology & Infection Control, HIV/AIDS, Rational Use of Antimicrobials and Patient Safety, among others.
Dr. Jyoti Somani, F.A.C.P. is a Senior Consultant for the Division of Infectious Diseases at the University Medicine Cluster, National University Hospital. She
is also an Assistant Professor for the Department of Medicine at Yong Loo Lin School of Medicine, National University of Singapore. She was appointed as
the Director at the NUH Epidemiology Program last July of 2020 and also serves as the Deputy Chair for the NUH Infection Prevention Committee.


She is currently the Clinical Director for their Antibiotic Stewardship Program. Dr. Somani has given several talks regarding various topics such as KTPH Dengue Management Guidelines General Medicine Grand Rounds, AMK-CH Adult Vaccination to Prevent Pneumonia CME talk, ID for the HO: Antibiotics and cultures: Maximizing Quality Control and Effective Treatment, among others. At present, she also serves as a member at the Covid Clinical studies DSRB-E2 Committee and the National Antimicrobial Resistance Control Committee of National University Hospital in Singapore.
JOYCE SOCAO-ALUMNO
Founder & President, HealthCore International
Patient Safety Ambassador (ASEAN), Patient Safety Movement Foundation
President, HeaRT Alliance of the Philippines
Prof. Joyce Socao-Alumno is the Founder & President of HealthCore—the center for global healthcare management, quality accreditation for healthcare and hospitality, and medical tourism services in the Philippines. Ms. Alumno is Patient Safety Ambassador for Patient Safety Movement Foundation advocating patient safety initiatives and globalization of healthcare and is a leading proponent of Medical and Wellness Tourism. Her varied skills make her a well-sought after consultant and speaker in many international conferences and a regular judge and advisor for various organizations. She has represented international quality accreditation agencies such as Quality & Accreditation Institute, Joint Commission International, Accreditation Canada, NABH International, Swiss Approval International, and TEMOS. She is an Adjunct Professor at the Ateneo Graduate School of Business and a certified ISO 9001:2015 Lead Auditor. Very recently, she was elected President of the Health, Retirement & Tourism (HeaRT) Alliance of the Philippines advocating the development and promotion of the Philippine Health Tourism program of the country.