Patient Safety Course:
Focus on Universal Healthcare and Pandemic Management
February 9, 2022
2023-05-19 20:22
Patient Safety Course:<span class='new-line'>Focus on Universal Healthcare and Pandemic Management</span>
Patient Safety Course:
Focus on Universal Healthcare and Pandemic Management
PATIENT SAFETY COURSE: 

Focus on Universal Healthcare and Pandemic Management
** 5 PRC CPD Units **
Patient safety officers work in healthcare facilities to ensure that patients receive quality healthcare. They help shape the way that healthcare services are provided so that mistakes can be avoided. One of their primary tasks involves ensuring their staff team prioritizes patient safety. They can implement ways for staff to report concerns or incidents. They may also address the staff involved with the issue and collaborate with other professionals to assess staff performance.
In order to ensure that patients receive quality treatment without unnecessary complications, patient safety officers help create policies and procedures that healthcare staff are trained to follow. They continue to evaluate their policies and determine if there are new practices that they can implement that will produce better results. They assess their facility's patient care record and use that data to determine if there are specific areas where mistakes are common or if other factors, such as fatigue, contributed to mistakes. Once they've identified factors contributing to errors they work to produce strategies to address those issues, create policies and ensure training programs are developed and implemented.
Endorsed by the Department of Health, this online training is highly recommended for Patient Safety Officers, Managers and Staff who are involved in Quality Management Programs and Patient Safety Unit in their hospitals as per DOH AO No. 2020-0007.
Course Description
HealthCore is committed to providing healthcare leaders and staff with a set of core topics that serve as building blocks for improving quality and patient safety. These workshops to improve the level of knowledge and competencies in the basic concepts, methods, and tools related to Patient Safety.

WHO Patient Safety Priorities

1. Look-alike, sound-alike medication
2. Patient Identification
3. Communication during patient handovers
4. Peri-operative patient safety (performance of correct procedure at correct body site)
5. Control of concentrated electrolyte solutions
6. Assuring medication accuracy at transitions of care
7. Avoiding catheter and tubing misconnections
8. Single use of injection devices
9. Improved hand hygiene to prevent health care-associated infection
10. Follow-up on critical test results
11. Patient falls
12. Healthcare-associated infections
13. Central lines
14. Pressure ulcers
15. Response to the deteriorating patient


WHO has also outlined specific World Patient Safety Day 2020 goals for health care leaders to invest in, measure, and improve health worker safety. The goals are intended for health care facilities to address five areas: preventing sharps injuries; reducing work-related stress and burnout; improving the use of personal protective equipment; promoting zero tolerance to violence against health workers, and reporting and analyzing serious safety-related incidents.
"No country, hospital or clinic can keep its patients safe unless it keeps its health workers safe"
-Tedros Adhanom Ghebreyesus, WHO Director-General, 17 September 2020
Course Objectives
Participants will acquire basic knowledge and skills regarding the following major topics:
• Understand the concepts of patient safety and impact of patient safety events in healthcare facilities
• Understand the role of leadership in managing patient safety events
• Understand styles and methods of leadership that impact the quality and patient safety
• Understand how to interpret and use generic patient safety goals to prevent patient safety events
• Understand the principles and concepts of culture of safety, and how to perform an
organizational assessment
• Develop competencies in using a four-step change management model to support
improvement projects
• Describe the relationship between medical errors and patient safety events
WHO SHOULD PARTICIPATE
PROCESS
International Participants
$
60
Participation Fee inclusive of:
E-Certificate upon Completion
Philippine Participants
₱
2,995
Participation Fee inclusive of:
E-Certificate upon Completion
Vice Chairman of the Board of Directors, Joint Commission International, USA
Chairman of the Board, Ramsay Sime Darby Health Care (RSDHC) Group
Head of the Private Healthcare Productivity Nexus, Government of Malaysia

Past President, Association of Private Hospitals of Malaysia
Emergency Medicine Specialist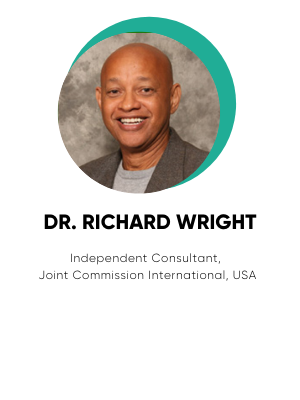 RICHARD WRIGHT, MD, MPH
(JCR) and Joint Commission International (JCI),
Joint Commission Resources
, is an international consultant and expert on quality and patient safety. He is a board certified internal medicine and infectious disease specialist. Dr. Wright is an independent consultant with the providing consulting services for hospitals and ambulatory centers both in the United States and in numerous countries, with specific expertise in credentialing and privileging, performance measurement and quality management, leadership development, and the use of Lean Redesign methods to improve clinical processes impacting quality and patient safety. His expertise is in performance improvement and evaluation, care process redesign, and disease management by clinical teams.
Previously, he served as a senior executive of Denver Health Authority as the Executive Director of the largest network of Federally Qualified Community-based Primary Care Health Centers in the country, serving 100,000 residents in Denver and providing more than 300,000 ambulatory visits. Dr. Wright authored numerous articles on a broad array of topics related to health care quality and management.
THOMAS KOZLOWSKI, PhD is the CEO of Health Strategic Solutions, LLC in the US. With over 40 years of experience in healthcare management, he is seen as a healthcare executive who works within a global market allowing his leadership skills and knowledge to attain institutional success and be a trusted advisor. His expertise in the understanding of cultural and institutional differences continue to be key improvement issues for the C-Suite leadership in the healthcare delivery system workplace in all countries and cultures allowing Dr. Kozlowski to emerge with
comprehensive solutions from different perspectives at the decision table.

Dr. Thomas Kozlowski worked with Joint Commission Resources/Joint Commission International as a Principal Consultant and subsequently consulted with both domestic and international health care organizations in the areas of accreditation readiness and standards compliance. Also served as lecturer and mentor in Quality and Safety Implementation.

Dr. Kozlowski's consulting expertise in hospital, ambulatory care, behavioral health care, and long- term care settings include operational assessment; patient safety assessment; environment of care; executive leadership and governing bodies; performance improvement; implementation strategies for rapid response teams; electronic health record assessment; and incorporating tracer methodology and the periodic performance review as management tools.
MS. ERIN LLOYD currently works as the Group Head for Nursing, Quality and Risk for Ramsay Sime Darby Healthcare. She is a Registered Nurse, Midwife, has a Bachelor of Nursing and holds a Masters of Health Management. She has worked for Ramsay Health Care since 1996 in various roles which include: Nurse Unit Manager, Hospital Quality Manager and Medical Services Manager. In 2007, she commenced working for Ramsay Health Care in Indonesia and in July 2013 with the joint venture between Ramsay and Sime Darby, this changed to Ramsay Sime Darby Healthcare.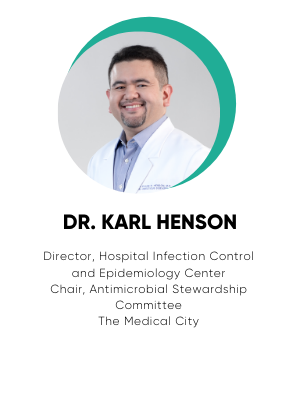 DR. KARL EVANS HENSON, MD, FPCP, FPSMID, is Internal Medicine and Infectious Disease Specialist. He is the current Director for Hospital Infection Control and Epidemiology and Chair for Antimicrobial Stewardship Committee at The Medical City, Philippines. Dr. Henson is also a Clinical Associate Professor at the University of the Philippines Manila College of Medicine, Division of Infectious Diseases. He earned his medical degree at the University of
Santo Tomas Faculty of Medicine and Surgery in 2006 with Cum Laude honors and Bachelor of Science in Biochemistry from the University of the Philippines Manila.

Among his distinctions are: 2020 Presidential Award from the Philippine Society for Microbiology and Infectious Diseases, Most Outstanding Intern at The Medical City, and Meritissimus (Excellent) rating for his Final Oral Revalida in UST.
JOYCE SOCAO-ALUMNO
Founder & President, HealthCore International
Patient Safety Ambassador (ASEAN), Patient Safety Movement Foundation
President, HeaRT Alliance of the Philippines
Prof. Joyce Socao-Alumno is the Founder & President of HealthCore—the center for global healthcare management, quality accreditation for healthcare and hospitality, and medical tourism services in the Philippines. Ms. Alumno is Patient Safety Ambassador for Patient Safety Movement Foundation advocating patient safety initiatives and globalization of healthcare and is a leading proponent of Medical and Wellness Tourism. Her varied skills make her a well-sought after consultant and speaker in many international conferences and a regular judge and advisor for various organizations. She has represented international quality accreditation agencies such as Quality & Accreditation Institute, Joint Commission International, Accreditation Canada, NABH International, Swiss Approval International, and TEMOS. She is an Adjunct Professor at the Ateneo Graduate School of Business and a certified ISO 9001:2015 Lead Auditor. Very recently, she was elected President of the Health, Retirement & Tourism (HeaRT) Alliance of the Philippines advocating the development and promotion of the Philippine Health Tourism program of the country.