Developing High Reliability Organization (HRO) in Healthcare
for Safe, Reliable, and Effective Care
August 4, 2022
2022-11-02 16:14
Developing High Reliability Organization (HRO) in Healthcare<span class='new-line'>for Safe, Reliable, and Effective Care</span>
Developing High Reliability Organization (HRO) in Healthcare
for Safe, Reliable, and Effective Care
Course Description
High Reliability Organizations (HRO) are organizations that operate in complex, high-hazard domains for extended periods without serious accidents or catastrophic failures. The concept of high reliability is attractive for healthcare, due to the complexity of operations and the risk of significant and even potentially catastrophic consequences when failures occur in healthcare. Sometimes people interpret high reliability as meaning effective standardization of healthcare processes. However, the principles of high reliability go beyond standardization; high reliability is better described as a condition of persistent mindfulness within an organization. High reliability organizations cultivate resilience by relentlessly prioritizing safety over other performance pressures. A classic example is that of the military aircraft carrier: despite significant production pressures (aircraft take off and land every 48–60 seconds), constantly changing conditions, and hierarchical organizational structure, all personnel consistently prioritize safety and have both the authority and the responsibility to make real-time operational adjustments to maintain safe operations as the top priority.
The Joint Commission suggests that hospitals and health care organizations work to create a strong foundation before they can begin to mature as high reliability organizations. Such foundational work includes developing a leadership commitment to zero-harm goals, establishing a positive safety culture, and instituting a robust process improvement culture. This includes metrics and tools for assessing the maturity of an organization's leadership, safety culture, and process improvement culture as preconditions to high reliability.  (Source:  Agency for Healthcare Research and Quality)
TARGET PARTICIPANTS
This course is designed for mid- to senior-level healthcare professionals who seek to acquire the required skills and competence in building highly reliable teams and organizations that will promote a culture of safety, aim for zero-harm goals and continuing process improvements in their hospitals and/or clinics for better outcomes.
STRUCTURE
"No country, hospital or clinic can keep its patients safe unless it keeps its health workers safe"
-Tedros Adhanom Ghebreyesus, WHO Director-General, 17 Seotember 2020

To receive the PRC Certificate of Attendance, students must get at least 70% in the post-test.
International Participants
$
60
Participation Fee inclusive of:
E-Certificate upon Completion
Philippine Participants
₱
2,995
Participation Fee inclusive of:
E-Certificate upon Completion
Total Duration: 5 Hours and 45 Minutes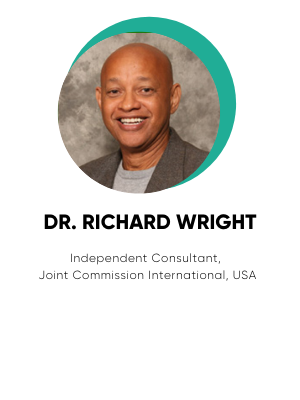 Richard Wright, MD, MPH, is an international consultant and expert on quality and patient safety. He is a board certified internal medicine and infectious disease specialist. Dr. Wright is an independent consultant with the Joint Commission Resources (JCR) and Joint Commission International (JCI), providing consulting services for hospitals and ambulatory centers both in the United States and in numerous countries, with specific expertise in credentialing and privileging, performance measurement and quality management, leadership development, and the use of Lean Redesign methods to improve clinical processes impacting quality and patient safety.
His expertise is in performance improvement and evaluation, care process redesign, and disease management by clinical teams. Previously, he served as a senior executive of Denver Health Authority as the Executive Director of the largest network of Federally Qualified Community-based Primary Care Health Centers in the country, serving 100,000 residents in Denver and providing more than 300,000 ambulatory visits. Dr. Wright authored numerous articles on a broad array of topics related to health care quality and management.
THOMAS KOZLOWSKI, PhD is the CEO of Health Strategic Solutions, LLC in the US. With over 40 years of experience in healthcare management, he is seen as a healthcare executive who works within a global market allowing his leadership skills and knowledge to attain institutional success and be a trusted advisor. His expertise in the understanding of cultural and institutional differences continue to be key improvement issues for the C-Suite leadership in the healthcare delivery system workplace in all countries and cultures allowing Dr. Kozlowski to emerge with
comprehensive solutions from different perspectives at the decision table.

Dr. Thomas Kozlowski worked with Joint Commission Resources/Joint Commission International as a Principal Consultant and subsequently consulted with both domestic and international health care organizations in the areas of accreditation readiness and standards compliance. Also served as lecturer and mentor in Quality and Safety Implementation.

Dr. Kozlowski's consulting expertise in hospital, ambulatory care, behavioral health care, and long- term care settings include operational assessment; patient safety assessment; environment of care; executive leadership and governing bodies; performance improvement; implementation strategies for rapid response teams; electronic health record assessment; and incorporating tracer methodology and the periodic performance review as management tools.
JOYCE SOCAO-ALUMNO
Founder & President, HealthCore International
Patient Safety Ambassador (ASEAN), Patient Safety Movement Foundation
President, HeaRT Alliance of the Philippines
Prof. Joyce Socao-Alumno is the Founder & President of HealthCore—the center for global healthcare management, quality accreditation for healthcare and hospitality, and medical tourism services in the Philippines. Ms. Alumno is Patient Safety Ambassador for Patient Safety Movement Foundation advocating patient safety initiatives and globalization of healthcare and is a leading proponent of Medical and Wellness Tourism. Her varied skills make her a well-sought after consultant and speaker in many international conferences and a regular judge and advisor for various organizations. She has represented international quality accreditation agencies such as Quality & Accreditation Institute, Joint Commission International, Accreditation Canada, NABH International, Swiss Approval International, and TEMOS. She is an Adjunct Professor at the Ateneo Graduate School of Business and a certified ISO 9001:2015 Lead Auditor. Very recently, she was elected President of the Health, Retirement & Tourism (HeaRT) Alliance of the Philippines advocating the development and promotion of the Philippine Health Tourism program of the country.