The Rising Tide Economics: Impact of COVID-19 on Hospitals
November 13, 2020
2020-12-02 14:38
The Rising Tide Economics: Impact of COVID-19 on Hospitals
The Rising Tide Economics: Impact of COVID-19 on Hospitals
19 November 2020, Friday, 1pm-3pm

via Zoom and FB Live: HealthCore
Description
A rising tide lifts all boats. For progressive thinkers, the rising-tide metaphor is not a causal assumption that growth will automatically raise everyone. Rather, it is the aspiration and test for economic policy — does it both raise the tide and lift all boats? Rising Tide Economics focuses on how we could best address major economic challenges caused by COVID-19 by raising all boats, in this case our hospitals, in the most pro-growth way possible. With roughly 2,000 hospitals serving 110 million Filipinos, how do we increase the hospital capacity with limited resources? What are the opportunities?
Watch the full webinar here
Interested to learn more? Get exclusive access to the presentations and resources used during the webinar.
Prof. Joyce Socao-Alumno
President & CEO, HealthCore
President, Health Retirement and Tourism (HeaRT) Alliance of the Philippines
SYNTHESIS AND CLOSING REMARKS
Mr. Roberto Pagdanganan
Chairman, Medicines Transparency Alliance (META) Philippines
Founding Chairman, PITC Pharma (Founder of "Botika ng Bayan" Program)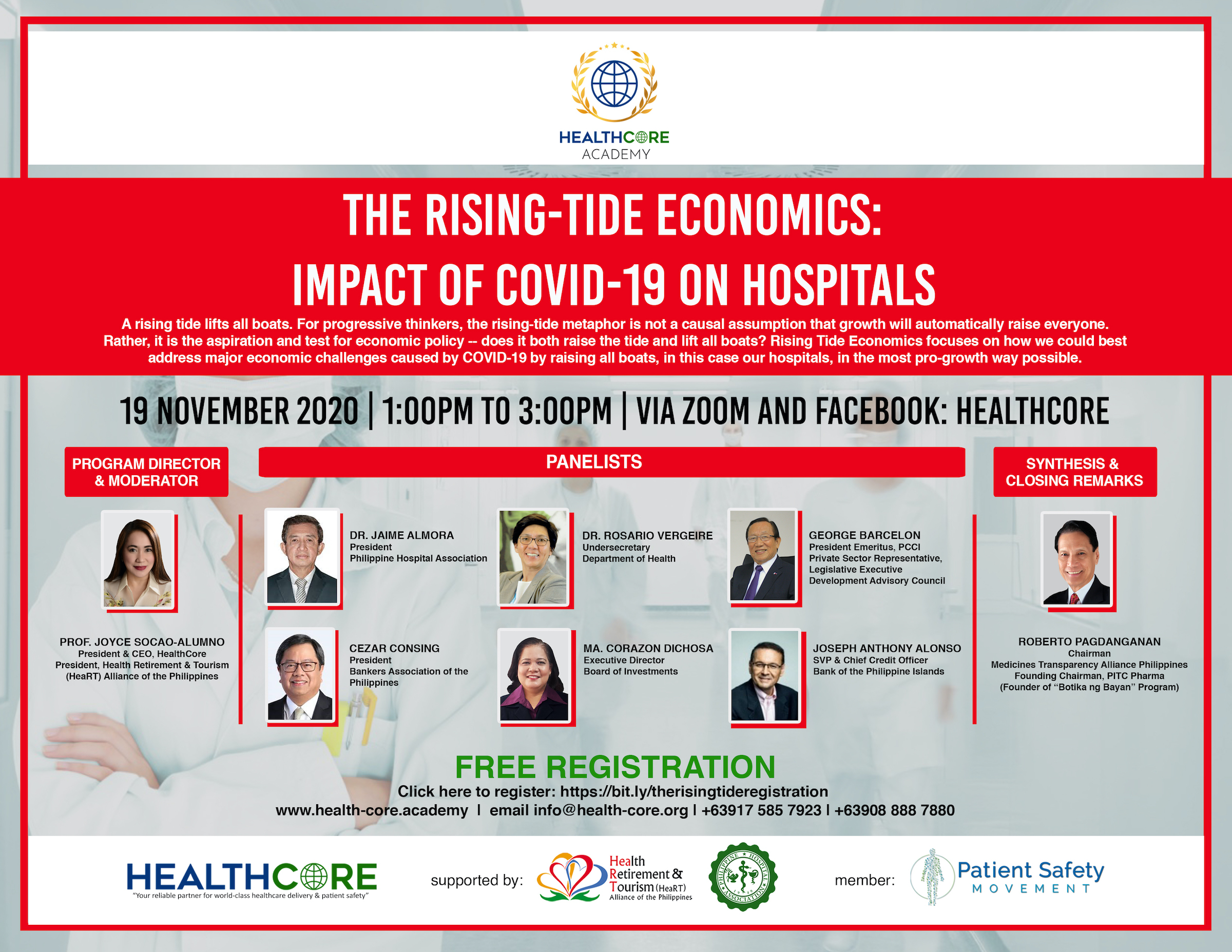 Dr. Jaime Almora is the President of the Philippine Hospital Association. He is also the owner and Medical Director of Almora General Hospital in Tabuk City,  Kalinga which is a Level 1 Hospital with 50-bed registered capacity. Dr. Almora has also held several relevant positions, such as governor of the Philippine Medical Association, Northeastern Luzon, and President of the Kalinga Medical Society. He is a BS Biology and Doctor of Medicine graduate from St. Louis University, Baguio and practices General Surgery, Diagnostic Ultrasonology and Laparoscopic and Endoscopic Surgery.
Cezar P. Consing has been since 2013 President and Chief Executive Officer of Bank of the Philippine Islands (BPI).  BPI, 169 years old, is the oldest bank in Southeast Asia.  It has approximately 21,000 employees and is the Philippines' second largest bank in terms of market capitalization.  
Mr. Consing has served on BPI's board of directors for 18 years (1995 – 2000, 2004 – 2007, 2010 – present).  He serves as chairman of BPI's thrift bank, investment bank, UK bank, property and casualty insurance, leasing, and rental subsidiaries, and vice chairman of its foundation; and is also a board director of BPI's life insurance, asset management and micro finance subsidiaries.  Mr. Consing is a member of BPI's executive committee, and is chairman of its management and credit committees.

Mr. Consing is Chairman and President of the Bankers Association of the Philippines.  He is Chairman of Philippine Dealing System Holdings Corporation and its three operating subsidiaries.  He is also President of Bancnet, Inc.
Dr. Maria Rosario Vergeire is the current OIC-Undersecretary for the  Health Regulation Team and the official spokesperson of the Department. She was previously the Assistant Secretary in-charge of the Public Health Services Team. She also acted as OIC- Deputy Director-General Filed Regulatory Operation – Food and Drug Administration, Office Director of the Health Facilities and Services Regulatory Bureau and Chief of the Health Research Division of the Health Policy Development and Planning Bureau.
Undersecretary Vergeire has committed decades to public service, having worked in Marikina City's health office before joining the Department of Health in 2007. Aside from public service, she is also committed to nurturing our soon to be public health leaders serving as faculty at the Development Academy of the Philippines and part-time faculty in Ateneo School of Govt.
She obtained her undergraduate degree in Zoology from the University of Santo Tomas, her MD from De La Salle University College of Medicine, and her MPH from the University of the Philippines, Manila.  
Ma. Corazon Halili-Dichosa is a career executive with more than 25 years in the Board of Investments (BOI). She is currently the Executive Director of the Industry Development Services (IDS). She is tasked to handle industry-related matters and policies of the agency.She has handled various assignments in BOI, from industry development to international marketing and international negotiations. She also handles environmental policy matters, the agency's Performance Governance Scorecard (PGS) and Information and Communication. Executive Director Dichosa is a graduate of B.S. in Chemical Engineering and M.S. in Environmental Engineering from the Mapua Institute of Technology and Bachelor of Laws from Adamson University.
George T. Barcelon is the current President Emeritus  of the Philippine Chamber of Commerce and Industry, the largest business organization in the country. He represents the private sector in the Industry Development Council and National Competitive  
Council. He is also one of three Philippine  representatives to the ASEAN Business Advisory  
Council (ASEAN-BAC) and the Private Sector Representative to the Legislative-Executive  
Development Advisory Council (LEDAC). 
He is the President of the Integrated Computer Systems, a pioneer in computer  systems and peripherals. An affiliate of ICS is the ICS-ICT Corporation, an IT-logistics  company that operates out of Clark Special Zone and Cebu. 
He is the President of Paramount Vinyl Products and Interpolymer Corporation,  involved in the manufacturing of plastic sheeting and rubber matting. 
He is also the President of Several, realty development companies that provides  office space, commercial outlets, warehouse offices for ecozone locators and BPOs. 
He is Trustee & Treasurer of Philippines Exporters Confederation, Board Member  of Philippine Business for Education (PBEd), Director of Cardinal Santos Hospital  Foundation, Member of Rotary Club of Makati and President of Manila Golden  Lions Club Foundation.
As Chief Credit Officer, he is responsible for managing the aggregate risk in the BPI Group's loan portfolio – ensuring that portfolio quality and profitability is maintained across the lending units within the BPI Group through establishment of procedures and guidelines that facilitate effective decision making based on overall risk appetite and compliance with internal policies and regulatory requirements. He also serves as Vice Chairman of the Bank's Credit Committee and a member of BPI Century Tokyo Lease & Finance Corporation and BPI Century Tokyo Rental Corporation until July 2019.
Mr. Alonso was involved with Corporate Relationship Management for most of his 22 year career in BPI, having started as Market Head in the Asian Division and eventually becoming Division Head of the Asian Corporates/PEZA Division. The Division also included the Special Projects Team under the Financial Institutions Group and BPI Leasing Corporation and BPI Rental Corporation prior its merger with Tokyo Century Corporation of Japan.
Mr. Alonso started his banking career with The Mitsubishi Bank, Ltd. in Tokyo in 1990 as a management trainee, holding positions in branch, treasury and international operations and SME and multinational relationship management. Prior to joining BPI in January 1997, Mr Alonso headed the Japan Desk in the World Corporation Group of Citibank, N.A.
Manila Branch from 1994. Mr. Alonso obtained his BS Business Administration degree at the Faculty of Economics of Oita University in Japan in 1990 under a scholarship grant from the Japan Ministry of Education. He was also a scholar of the National Science and Technology Authority while attending the College of Engineering at the University of the Philippines
Program Director and Moderator
Prof. Joyce Socao-Alumno is the Founder & President of HealthCore—the center for global healthcare management, quality accreditation for healthcare and hospitality, and medical tourism services in the Philippines. Ms. Alumno is Patient Safety Ambassador for Patient Safety Movement Foundation advocating patient safety initiatives and globalization of healthcare and is a leading proponent of Medical and Wellness Tourism. Her varied skills make her a well-sought after consultant and speaker in many international conferences and a regular judge and advisor for various organizations. She has represented international quality accreditation agencies such as Quality & Accreditation Institute, Joint Commission International, Accreditation Canada, NABH International, Swiss Approval International, and TEMOS. She is an Adjunct Professor at the Ateneo Graduate School of Business and a certified ISO 9001:2015 Lead Auditor. Very recently, she was elected President of the Health, Retirement & Tourism (HeaRT) Alliance of the Philippines advocating the development and promotion of the Philippine Health Tourism program of the country.
Synthesis and Closing Remarks
Roberto 'Obet' Pagdanganan has had an extensive experience both in the private sector,  (business, academe and civil society organizations), and in government service. He was a senior  executive at Unilever and a part time professorial lecturer in chemical engineering and MBA subjects before he joined the government in 1986. 
Obet was a most outstanding public servant, and had received numerous awards and recognitions.  These include Most Outstanding Alumnus awards from all the schools he attended, and the Lifetime  Achievement Award, the highest award, from the Boy Scouts of the Philippines. He also received a  Legion of Honor award from President Cory Aquino for his role in fighting coup attempts during her term. 
Obet considers himself particularly fortunate to have led the successful struggle of local officials for local  autonomy, as President of the League of Provinces, and founding Chairman of the League of Leagues of  Local Government Units, later known as Union of Local Authorities of the Philippines, ULAP. He is a  foremost advocate for equitable national progress through good governance and cooperative  development. 
As Tourism Secretary, Obet initiated the opening of the Tourism Office in Beijing China and signed the  MOA for tourism cooperation between the Philippines and China on September 5, 2004. As Chairman  and President of PITC and PITC Pharma, he also spearheaded the quest to improve access to quality  and affordable medicines for the Filipino people. 
Obet's humble beginnings and familiarity with the travails of the less fortunate amongst us, have  strengthened his resolve to help fight poverty and to improve the quality of life of the Filipino people. He  attributes much of his values formation to boy scouting having been a member for more than 60 years.  He attended the Tenth (10th) World Boy Scouts Jamboree in July 1959 at Mt. Makiling. He is also guided  by Rotary's motto "service above self".