Infection Prevention & Control (Track 2) April 21-23, 2021
March 23, 2021
2021-10-26 18:15
Infection Prevention & Control (Track 2) April 21-23, 2021
Infection Prevention & Control (Track 2) April 21-23, 2021
Infection Prevention and Control
Track 2: International Standards on
Cleaning, Sterilization & Disinfection
in Healthcare Settings
21-23 April 2021
1:00PM to 5:00PM
(Philippine Time) via Zoom
Keeping the facility safe for patients, healthcare workers and community should be a priority for any hospital and clinic. Unfortunately, we have witnessed in many healthcare facilities that this isn't always the case, especially when there is high turnover of patients. According to the Center for Disease Control & Prevention (CDC), almost 100,000 people die every year from diseases acquired inside US hospitals. This scary statistics highlights some of the failures of traditional cleaning systems. With COVID-19 and other emerging infectious diseases threatening us, our healthcare facilities should be taking all precautions to keep the environment safe for patients, health workers and community.
Course Description
Knowing and implementing the best practices in hospital cleaning, sterilization and disinfection can help stop the spread of diseases in healthcare facilities. Infection-control strategies, housekeeping and engineering controls, when consistently implemented, are effective in preventing opportunistic, environmentally-related infections in immuno-compromised populations.
Adherence to proper use of disinfectants, proper maintenance of medical equipment that uses water (e.g., automated endoscope processors and hydrotherapy equipment); water-quality standards for hemodialysis; and proper ventilation standards for specialized care environments (i.e., airborne infection isolation; protective environment and operating rooms); and prompt management of water intrusion into facility structural elements will minimize healthcare-associated infection risks and reduce the frequency of pseudo-outbreaks.
Course Objectives
Participants will acquire basic knowledge and skills regarding the following major topics:
Basics of infection prevention and control
Understanding principles of hygiene and safe hospital environment and preconditions
Best practices and methodologies to plan and implement cleaning and housekeeping standards in healthcare facilities
Disinfection and infection control standards in healthcare facilities
Managing cleaning and disinfection of high-risk units, operating rooms, laboratories, medical device, and critical surfaces
Evaluation and strengthening/enhancement of cleaning and hygiene in hospitals
Continuous improvement practices
Medical waste management
Who Should Participate
Course Content
Philippine Participants
₱
4,500
Participation Fee inclusive of:
E-Certificate upon Completion
International Participants
$
90
Participation Fee inclusive of:
E-Certificate upon Completion
"Government Response to COVID-19:
Management and Prevention"
Special Advisor, National Task Force for COVID-19
Exec. Vice-President, University of the Philippines
Former Undersecretary, Department of Health
Dr. Sanjeev Singh is a pediatrician with Masters in Hospital Management and PhD in Infection Control. He worked as Regional Coordinator at WHO- India in disease eradication program before joining as Chief Medical Superintendent of a 1,2350-bed teaching super specialty hospital Amrita Institute of Medical Sciences & Research Center at Kochi.
Dr. Sanjeev is an Ambassador of India to Society of Healthcare Epidemiology of America (SHEA) and has been adjudged "Hero of Infection Control" by the Association of Professionals of Infection Control (APIC), U.S. He is an International surveyor at International Society for Quality (ISQua). He was member of Technical Committee at National Accreditation Board for Hospitals, India (NABH) and was responsible for drafting accreditation standards for 3rd and 4th edition. He is presently the Vice Chairman of Research Committee at NABH and Chairman of Technical Committee at AHPI (Association of Healthcare Providers of India) and Health Sector Council of India (Government of India). He is member of Drug Safety Council (GOI) and member of National Advisory Body on Occupational Exposures. He is also member of Healthcare Committee at Federation of Indian Chamber of Commerce of India (FICCI) and Secretary of AHPI- Delhi-NCR.
Dr. Sanjeev is an external consultant to WHO on regulatory, licensing policy issues and Quality Interventions in India; Technical Advisor to several State government healthcare projects (E- learning, reduction of IMR, Antibiotic Stewardship and Infection Control); Technical Expert for University of Antwerp's Point Prevalence Surveillance and Institute of Healthcare Improvement's (US) on Neonatal Collaborative program; and Technical Advisor on Infection Prevention and Antibiotic Stewardship for the State of Kerala, India.
He has written a book "Hospital Infection Control Guidelines: Principles & Practices" and several international and national publications including editorial committee for Asian Society of Quality Journal, International Journal for Research & Hospital Management and NABH Journal for Quality & Patient Safety. He has been awarded "Best Practices in Infection Control" by GOI and Quality Council of India (QCI) in 2010, "QIMPRO Quality award" for Lean Six Sigma implementation in Healthcare in 2012, "Outstanding Healthcare Professional" by ITP Publishing, Dubai in 2014 and FICCI "Patient Safety" award in 2015 and British Medical Journal (BMJ) award in South Asia for "Infectious Disease Initiative of the Year" in 2016. He was recently awarded as "Most impactful 100 healthcare leaders (global)" by CMA Asia in 2017; awarded "Quality Champion" by Confederation of Accreditation Healthcare Organization (CAHO) in 2018; and "Best Quality Initiative project" by DL Shah Quality Council of India and Ramakrishna Bajaj award in 2019.
He has done his fellowship in Patient & Healthcare Worker Safety from University of Virginia and fellowship on Health Technology Assessment (HTA) from University of Adelaide. He is an Improvement Advisor at Institute of Healthcare Improvement (IHI), U.S. and a faculty at Indian Institute of Management (IIM), Kolkata (HEMP) and at IIM Bangalore. Dr. Sanjeev is a Green Belt in Lean Six Sigma
Ms. Sharmila Sengupta is currently the Research Coordinator for Infectious Diseases at the National University Hospital in Singapore. Prior to this, she worked at the National Center for Infectious Disease and Tan Tock Seng Hospital also in Singapore.

As a Clinical Microbiologist, Dr. Sengupta focused her entire career in Microbiology, Infection Control and Epidemiology. She has held several senior positions in leading hospitals in India such as Medanta-The Medicity Hospital, BLK Superspecialty Hospital, Kasturba Medical College, Fortis Hospital and Max Healthcare. In 2017, she was a Technical Expert in the Committee for Control of Multi-Drug Resistant Pathogens at the World Health Organization headquarters and Principal Investigator for the Global Point Prevalence Study for Antimicrobial Usage in India.
Dr. Sengupta was the first International Ambassador of India to the Society of Healthcare Epidemiology of America (SHEA) in 2009 and was a Visiting Fellow to Johns Hopkins University, Department of Healthcare Epidemiology & Infection Control in 2015.   She has been teaching since 1995 in several universities up to present and is a Resource Speaker and Author of numerious research papers and journals on topics that include Quality Assurance in Clinical Microbiology & Infection Control, HIV/AIDS, Rational Use of Antimicrobials and Patient Safety, among others.
Dr. Anita Arora is a Microbiologist who is currently the Group Head for Infection Prevention and Control and Director for Medical Operations – NCR 1 and Kolkata in Fortis Healthcare in India. She is also Principal Assessor for NABH and Technical Assessor for NABL. She is an Expert in Central Pollution Control Board; Bureau of Indian Standards and International Ambassador for the Society for Healthcare Epidemiology of America in 2010.
Dr. Arora served as Member of the Advisory Board of the first International Conference on Prevention & Infection Control in Geneva, Switzerland in 2011. She was formerly Member of the National Infection Control Core Working Group which worked on the framing of national infection prevention and control recommendations to be developed into a National Infection Control Policy by the Ministry of Health and Family Welfare of the Government of India. She was also part of the Core Working Group of NABH and IMA for developing reference material for creating an antibiotic policy in healthcare facilities in India. Dr. Arora has a Green Belt in Lean Six Sigma.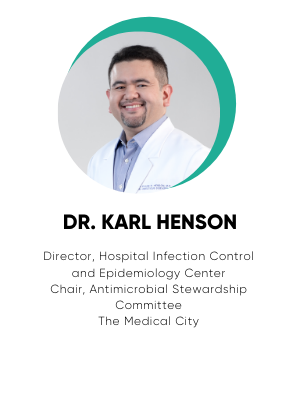 Dr. Karl Evans Henson, MD, FPCP, FPSMID, is Internal Medicine and Infectious Disease Specialist. He is the current Director for Hospital Infection Control and Epidemiology and Chair for Antimicrobial Stewardship Committee at The Medical City, Philippines. Dr. Henson is also a Clinical Associate Professor at the University of the Philippines Manila College of Medicine, Division of Infectious Diseases. He earned his medical degree at the University of Santo Tomas Faculty of Medicine and Surgery in 2006 with Cum Laude honors and Bachelor of Science in Biochemistry from the University of the Philippines Manila.
Among his distinctions are: 2020 Presidential Award from the Philippine Society for Microbiology and Infectious Diseases, Most Outstanding Intern at The Medical City, and Meritissimus (Excellent) rating for his Final Oral Revalida in UST.
Dr. Yang Huina is a Clinical Microbiologist who spent most of her professional career in the United Kingdom where she also got her education and trainings. She finished her BSc in Tumor Biology (First Class Honors) from the University College London in 2002 and MB BS in Royal Free and University College London Medical School in the UK in 2005. In 2016, she earned a degree on FRCPath from the Royal College of Pathologists and underwent the Cambridge Chief Resident Management and Leadership Development Programme from The Judge Business School, University of Cambridge and Cambridge University Hospitals Post Graduate Medical Centre, UK, in 2017.
She worked as Specialty Registrar in Medical Microbiology and Virology in different hospitals in the UK from 2009 to 2017. In 2017 to 2020, she was the Clinical Microbiologist Consultant and Clinical Lead for Antimicrobials and Antimicrobial Stewardship at the Royal Papworth Hospital NHS Foundation Trust in Cambridge, UK; Honorary Specialist Consultant in Public Health England and Cambridge University Hospitals NHS Foundation Trust, among many others. She was also a Member of the Infection Control & Pre and Per-Operative Care Committee, Member of the Quality and Risk Management Group and Member of the Drugs and Therapeutics Committee. At present, she is the Consultant Microbiologist in Tan Tock Seng Hospital in Singapore.
Dr. Aarti Gupta is the Head of Laboratory Operations in Fortis Memorial Research Institute in Gurugam, India. As a Microbiologist, she has over two decades of experience in Laboratory Medicine with expertise in Hospital Infection Prevention & Control that includes accreditations, quality control protocols, managing P&L and ensuring customer experience. She is responsible for leading the Program on "Prevention & Control of Infections" and preparing the Laboratory for JCI Accreditation. She is part of the three-member panel which led their hospital for APSIC accreditation for Safe Surgery Program.
Dr. Gupta is certified for ISO training and audit process. She was empanelled by the Bureau Veritas India Pvt Ltd as Specialist Auditor for "Green OT" and "Green and Clean Hospital" Certification. She is an Assessor of NABL.
Crisanta Donato is presently the Senior Manager for Environment of Care Department of The Medical City-Pasig where she also serves as Safety Officer. She is an Accredited Occupational Safety and Health Practitioner by DOLE and Accredited Pollution Control Officer by DENR. Ms. Donato is also a Certified Trainer of Essentials of Occupational Safety and Health (EOSH) from the International Training Center of the International Labor Organization.
Prof. Joyce Socao-Alumno is the Founder & President of HealthCore—the center for global healthcare management, quality accreditation for healthcare and hospitality, and medical tourism services in the Philippines. Ms. Alumno is Patient Safety Ambassador for Patient Safety Movement Foundation advocating patient safety initiatives and globalization of healthcare and is a leading proponent of Medical and Wellness Tourism. Her varied skills make her a well-sought after consultant and speaker in many international conferences and a regular judge and advisor for various organizations. She has represented international quality accreditation agencies such as Quality & Accreditation Institute, Joint Commission International, Accreditation Canada, NABH International, Swiss Approval International, and TEMOS. She is an Adjunct Professor at the Ateneo Graduate School of Business and a certified ISO 9001:2015 Lead Auditor. Very recently, she was elected President of the Health, Retirement & Tourism (HeaRT) Alliance of the Philippines advocating the development and promotion of the Philippine Health Tourism program of the country.