Patient Safety Course
March 23, 2021
2021-11-02 17:26
Patient Safety Course
Patient Safety Course
10:00AM to 02:00PM
(Philippine Time) via Zoom
With the rising burdens in healthcare, the demand for patient safety and quality of care is increasing. In spite of so many initiatives, the patient safety implementation has remained fragmented. Challenges in patient safety in the Philippines are varied in nature, ranging from unsafe injections and biological waste management to medication and medical device safety, high rates of healthcare associated infections, anti-microbial resistance, among others.

The National Policy on Patient Safety applies to all healthcare facilities providing preventive, promotive, curative and rehabilitative care stating that the establishment and maintenance of culture of patient safety in an organization is the responsibility of its leadership. The key priority areas in patient safety include, but not limited to, proper patient identification, assurance of blood safety, safe clinical and surgical procedures, provision and maintenance of safe quality drugs and technology, strengthening of infection control standards, maintenance of the environment of care standards and energy/waste management standards.


HealthCore is committed to providing healthcare leaders and staff with a set of core topics that serve as building blocks for improving quality and patient safety. These workshops aim to improve the level of knowledge and competencies in the basic concepts, methods, and tools related to Patient Safety.
WHO has also outlined specific World Patient Safety Day 2020 goals for health care leaders to invest in, measure, and improve health worker safety. The goals are intended for health care facilities to address five areas: preventing sharps injuries; reducing work-related stress and burnout; improving the use of personal protective equipment; promoting zero tolerance to violence against health workers; and reporting and analyzing serious safety related incidents.
Course Objectives
Understand the concepts of patient safety and impact of patient safety events in healthcare facilities
Understand the role of leadership in managing patient safety events
Understand styles and methods of leadership that impact the quality and patient safety
Understand how to interpret and use generic patient safety goals to prevent patient safety events
Understand the principles and concepts of culture of safety, and how to perform an organizational assessment
Develop competencies in using a four-step change management model to support improvement projects
Describe the relationship between medical errors and patient safety events
WHO Patient Safety Priorities
Who Should Attend
Process
Philippine Participants
₱
4,500
Participation Fee inclusive of:
E-Certificate upon Completion
International Participants
$
90
Participation Fee inclusive of:
E-Certificate upon Completion
Dato' Dr. Jacob Thomas is considered a maverick in the healthcare industry. He is an emergency medicine doctor educated in India, United Kingdom, and the United States who eventually moved up the corporate ladder having served in various capacities at Subang Jaya Medical Centre, until he became the CEO and Group Medical Advisor of Sime Darby Health Care, and now Chairman of Ramsay Sime Darby Health Care, a position he held since 2013. He is also the longest-standing President of the Association of Private Hospitals of Malaysia having been elected five times since 2008 and President of Asian Hospital Federation in 2012-2013. He serves as Councilor of the Malaysian Society for Quality in Health (MSQH) and Board Member of the Malaysia Healthcare Travel Council (MHTC). Dr. Jacob today works closely with various NGOs and Government agencies to promote Malaysian Healthcare both locally and internationally. He is a Steering Committee Member of Malaysia's National Key Economic Areas (NKEA) for Healthcare and Chairman of the Disciplinary Committee of Malaysian Medical Council. From 2014 to present, he sits in the Board of Directors of Joint Commission Resources (JCR) in the U.S. and Member of Asia Pacific Regional Advisory Council of Joint Commission International (JCI). At present, he serves as the Chairman of the Joint Commission International (JCI).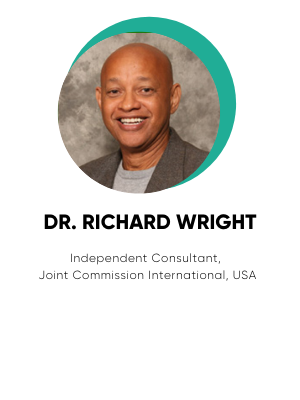 Richard Wright, MD, MPH, is an international consultant and expert on quality and patient safety. He is a board certified internal medicine and infectious disease specialist. Dr. Wright is an independent consultant with the Joint Commission Resources (JCR) and Joint Commission International (JCI), providing consulting services for hospitals and ambulatory centers both in the United States and in numerous countries, with specific expertise in credentialing and privileging, performance measurement and quality management, leadership development, and the use of Lean Redesign methods to improve clinical processes impacting quality and patient safety. His expertise is in performance improvement and evaluation, care process redesign, and disease management by clinical teams. Previously, he served as a senior executive of Denver Health Authority as the Executive Director of the largest network of Federally Qualified Community-based Primary Care Health Centers in the country, serving 100,000 residents in Denver and providing more than 300,000 ambulatory visits. Dr. Wright authored numerous articles on a broad array of topics related to health care quality and management.
Thomas Kozlowski, PhD is the CEO of Health Strategic Solutions, LLC in the US. With over 40 years of experience in healthcare management, he is seen as a healthcare executive who works within a global market allowing his leadership skills and knowledge to attain institutional success and be a trusted advisor. His expertise in the understanding of cultural and institutional differences continue to be key improvement issues for the C-Suite leadership in the healthcare delivery system workplace in all countries and cultures allowing Dr. Kozlowski to emerge with comprehensive solutions from different perspectives at the decision table. Dr. Thomas Kozlowski worked with Joint Commission Resources/Joint Commission International as a Principal Consultant and subsequently consulted with both domestic and international health care organizations in the areas of accreditation readiness and standards compliance. Also served as lecturer and mentor in Quality and Safety Implementation. Dr. Kozlowski's consulting expertise in hospital, ambulatory care, behavioral health care, and long- term care settings include operational assessment; patient safety assessment; environment of care; executive leadership and governing bodies; performance improvement; implementation strategies for rapid response teams; electronic health record assessment; and incorporating tracer methodology and the periodic performance review as management tools.
Ms. Erin Lloyd currently works as the Group Head for Nursing, Quality and Risk for Ramsay Sime Darby Healthcare. She is a Registered Nurse, Midwife, has a Bachelor of Nursing and holds a Masters of Health Management. She has worked for Ramsay Health Care since 1996 in various roles which include: Nurse Unit Manager, Hospital Quality Manager and Medical Services Manager. In 2007, she commenced working for Ramsay Health Care in Indonesia and in July 2013 with the joint venture between Ramsay and Sime Darby, this changed to Ramsay Sime Darby Healthcare. Ms. Lloyd is also one of the distinguished Assessors in Joint Commission International based in USA.
Prof. Joyce Socao-Alumno is the Founder & President of HealthCore—the center for global healthcare management, quality accreditation for healthcare and hospitality, and medical tourism services in the Philippines. Ms. Alumno is Patient Safety Ambassador for Patient Safety Movement Foundation advocating patient safety initiatives and globalization of healthcare and is a leading proponent of Medical and Wellness Tourism. Her varied skills make her a well-sought after consultant and speaker in many international conferences and a regular judge and advisor for various organizations. She has represented international quality accreditation agencies such as Quality & Accreditation Institute, Joint Commission International, Accreditation Canada, NABH International, Swiss Approval International, and TEMOS. She is an Adjunct Professor at the Ateneo Graduate School of Business and a certified ISO 9001:2015 Lead Auditor. Very recently, she was elected President of the Health, Retirement & Tourism (HeaRT) Alliance of the Philippines advocating the development and promotion of the Philippine Health Tourism program of the country.