Healthcare Digitalization Strategy:
During and Post Pandemic
May 31, 2021
2021-10-27 8:19
Healthcare Digitalization Strategy: <span class='new-line'>During and Post Pandemic</span>
Healthcare Digitalization Strategy:
During and Post Pandemic
23 June 2021, Wednesday, 1pm-4pm

via Zoom and FB Live: HealthCore
Overview
As early as 2012, it has been envisioned by the Department of Health, in collaboration with the Department of Science and Technology, that "by 2020, eHealth will enable widespread access to health care services, health information, and securely share and exchange client's information in support to a safer, quality health care, more equitable and responsive health system for all the Filipino people by transforming the way information is used to plan, manage, deliver and monitor health services." This led to the creation of the National E-Health Program which developed the Philippine eHealth Strategic Framework Plan (2014-2020).
The said National E-Health Program would have been timely with the passing of Universal Healthcare Law in 2019. With the global onslaught of the COVID-19 pandemic in 2020, a strong and robust national e-health program could help the government authorities and healthcare leaders in securely gathering, interpreting, and exchanging information that would result in better health outcomes and allocation of resources during the most crucial times.
This webinar will gather the lead agencies and experts in presenting to the healthcare providers and players the challenges and issues, as well as the solutions, in developing and implementing a digital roadmap for their respective healthcare facility – whether it is a standalone clinic and laboratory or a specialty tertiary level hospital – anchored on patients and health workers' safety.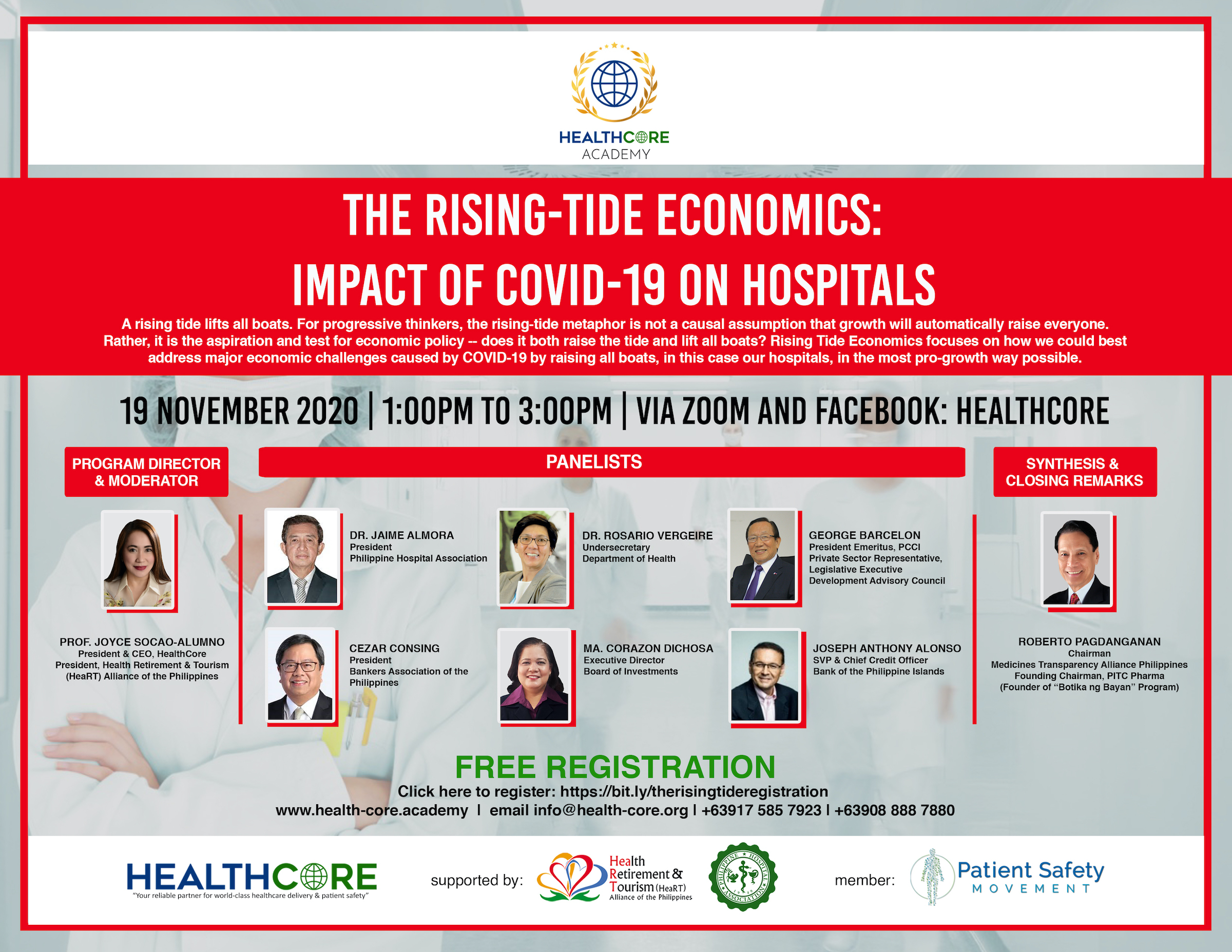 Roberto 'Obet' Pagdanganan has had an extensive experience both in the private sector,  (business, academe and civil society organizations), and in government service. He was a senior  executive at Unilever and a part time professorial lecturer in chemical engineering and MBA subjects before he joined the government in 1986. 
Obet was a most outstanding public servant, and had received numerous awards and recognitions.  These include Most Outstanding Alumnus awards from all the schools he attended, and the Lifetime  Achievement Award, the highest award, from the Boy Scouts of the Philippines. He also received a  Legion of Honor award from President Cory Aquino for his role in fighting coup attempts during her term. 
Obet considers himself particularly fortunate to have led the successful struggle of local officials for local  autonomy, as President of the League of Provinces, and founding Chairman of the League of Leagues of  Local Government Units, later known as Union of Local Authorities of the Philippines, ULAP. He is a  foremost advocate for equitable national progress through good governance and cooperative  development. 
As Tourism Secretary, Obet initiated the opening of the Tourism Office in Beijing China and signed the  MOA for tourism cooperation between the Philippines and China on September 5, 2004. As Chairman  and President of PITC and PITC Pharma, he also spearheaded the quest to improve access to quality  and affordable medicines for the Filipino people. 
Obet's humble beginnings and familiarity with the travails of the less fortunate amongst us, have  strengthened his resolve to help fight poverty and to improve the quality of life of the Filipino people. He  attributes much of his values formation to boy scouting having been a member for more than 60 years.  He attended the Tenth (10th) World Boy Scouts Jamboree in July 1959 at Mt. Makiling. He is also guided  by Rotary's motto "service above self".
Siddhartha Mishra (CEO – Healthcare at HATI International) is a highly respected healthcare leader with extensive experience in the public and private sectors. Over the past two decades, he has extensively worked collaboratively with a variety of partners and stakeholders including governments, communities and other health service providers to strengthen and advance patient care objectives. He has been instrumental in promoting the use of information technology in improving quality of patient care within the region and beyond. At HATI International, Siddhartha looks after Business, Product, Consulting, clinical and information technology.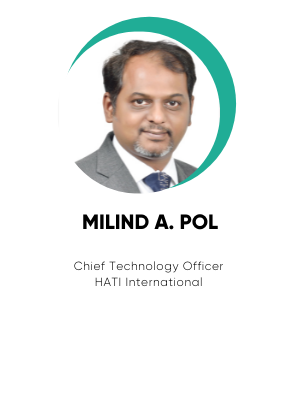 Milind A. Pol (Chief Technology Officer, HATI International) is a Thought Leader in Healthcare IT. With over 22 year of experience in Information Technology and Management, and 12 years in HealthCare IT. His key expertise are Microservices based products for Clinical, Operations, Patient, BI, AI based Clinical pathways, Health analytics product CareBI – predictive analysis, Big Data, NLP, ML to improve quality and reduce costs, and Patient portal with collaboration platforms to take care at home with behavior improvements among many others. He is also a certified Project Management Professional, and certified by the Information Technology Infrastructure Library foundation Certification; Office of Government Commerce, UK.
Jitinder Magoon (SVP, Sales and Market Growth at HATI International) is a strong leader and a strategic thinker with 33 years of experience in managing high-level healthcare industry with proven track record of meeting and exceeding targets. He held various leadership positions with leading healthcare MNC's like IBM, General Electric, Philips, and Hewlett-Packard. He possess strong interpersonal and excellent communication skills with great ability to enhance relationships, interact with top management, stakeholders and workforce to achieve overall corporate objectives.
He graduated from Bangalore University in 1988 with a Bachelors of Engineering in Electronics and Telecommunications. He joined Hewlett-Packard/Philips Healthcare division and held various portfolios in HP/Philips healthcare division Prior to leaving Philips in 2003 he was Business Manager South Asia. Prior to GE, he worked with a Healthcare and Automotive Company in India based at New Delhi as CEO. In 2017, he joined IBM as Strategic Client Business Development Leader, Integrated healthcare and Life sciences, IBM ASEAN and contributed in developing ASEAN HC & LS market with high double-digit growth.
Program Director and Moderator
Prof. Joyce Socao-Alumno is the Founder & President of HealthCore—the center for global healthcare management, quality accreditation for healthcare and hospitality, and medical tourism services in the Philippines. Ms. Alumno is Patient Safety Ambassador for Patient Safety Movement Foundation advocating patient safety initiatives and globalization of healthcare and is a leading proponent of Medical and Wellness Tourism. Her varied skills make her a well-sought after consultant and speaker in many international conferences and a regular judge and advisor for various organizations. She has represented international quality accreditation agencies such as Quality & Accreditation Institute, Joint Commission International, Accreditation Canada, NABH International, Swiss Approval International, and TEMOS. She is an Adjunct Professor at the Ateneo Graduate School of Business and a certified ISO 9001:2015 Lead Auditor. Very recently, she was elected President of the Health, Retirement & Tourism (HeaRT) Alliance of the Philippines advocating the development and promotion of the Philippine Health Tourism program of the country.